Riechmann Bros News
---
Tuesday, August 30, 2022
John Deere Introduces The StarFire 7000 Receiver
StarFire 7000 Receiver
with SF-RTK Signal

RTK-like accuracy - 2.5 cm pass to pass repeatability

SF-RTK achieves 75% faster pull-in times, compared to SF3 signal

Guaranteed 5-year repeatability, season to season

Drop-in replacement for StarFire 6000 receiver
Increased performance with StarFire 7000 Receiver
The StarFire 7000 Receiver is the latest addition to the suite of Precision Ag Technology from John Deere. The StarFire 7000 Receiver offers greater accuracy, faster pull-in times, and season-to-season repeatability. This means less hardware, faster times recovering from a shading event, and the confidence that your guidance lines and boundaries won't shift from year to year.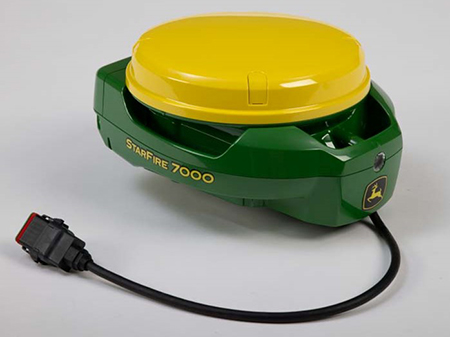 RTK precision without the radio
The StarFire™ 7000 Receiver offers a new correction level with accuracy like RTK Radio. The SF-RTK correction level provides 2.5-cm (1-in.) horizontal accuracy without the need for additional hardware. This is an improvement of 17 percent from the previous generation of StarFire receiver. The SF-RTK signal uses two additional satellite constellations (BeiDou and Galileo) as well as both GPS (United States) and GLONASS (Russia) satellites.
The StarFire 7000 and StarFire 7000 Integrated Receivers simultaneously track correction signals from up to three StarFire correction satellites. The receiver tracks and uses correction signals from all StarFire satellites in view and intelligently chooses one that delivers the best performance. When the receiver moves into an area where the primary StarFire signal is blocked, such as near a tree line, the receiver automatically switches to an alternate StarFire signal (if visible) to help maintain accuracy and performance.
NOTE: Compare this to the previous StarFire 3000 Receiver that was only capable of tracking one StarFire signal at a time and could wait up to 4 minutes to initiate the switch to the next available signal.
Repeatability defines how accurately the receiver calculates its position over a relatively long-term window.
NOTE: SF-RTK uses satellite corrections only and does not require the use of an RTK Radio. RTK Radio may still be required in the following scenarios:
iGrade™ water management
Areas with thick tree lines or obstacles that could cause

shading of the receiver
Long-term repeatability beyond 5 years
Hilly terrain
Get to work faster
Many factors contribute to the time it takes to achieve desired accuracy from the StarFire™ receiver. Global Navigation Satellite System (GNSS) signal quality can be a contributor, especially when multipath errors occur. Multipath errors occur when satellite signals reflect off nearby surfaces. When the receiver antenna captures a multipath signal, it takes time for the receiver to filter out actual GNSS signal directly from the satellite versus reflected signal from a nearby object. This contributes to the time it takes to achieve desired accuracy.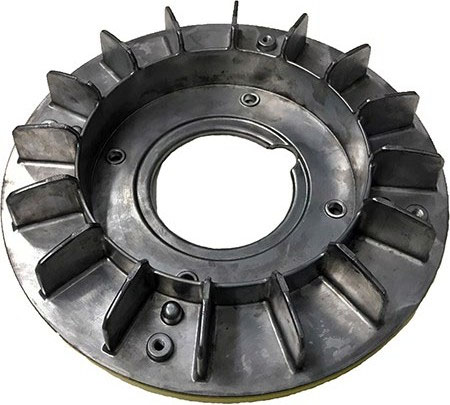 Choke Plate
The choke plate hardware in the StarFire 7000 Receiver more accurately directs GNSS signals into the antenna. With the addition of this choke plate, there is a 66 percent reduction in the time it takes to acquire an SF-RTK correction signal from previous generations of StarFire receivers. This means you have more time to be productive and get the job done quicker.
The StarFire 7000 and StarFire 7000 Integrated Receiver use an integrated terrain compensation module (TCM) to adjust the calculated machine position based on the terrain on which it is operating. The TCM adjusts for roll, pitch, and yaw motion to improve receiver and AutoTrac™ system performance when operating in challenging conditions such as hilly ground.
TCM ensures accurate Section Control and AutoTrac guidance performance.
TCM provides input data such as pitch to systems like the ActiveYield™ monitoring system on combines.
The StarFire 7000 Integrated Receiver uses software to project into the position as the StarFire 7000 Receiver to ensure same performance and accuracy.
The StarFire 7000 Integrated Receiver comes factory calibrated, ensuring the highest possible performance and precision.
ADVANCED TCM CALIBRATION
As accuracy and repeatability continue to be more important to get to plant-by-plant accuracy, the systems in place today must evolve to enable this capability. Like the StarFire 6000, the StarFire 7000 offers an Advanced TCM Calibration feature.
Benefits:
Removes the guesswork out of positioning a machine and implement in the exact same spot when turning around.
Removes the need for a level surface.
Adds higher precision to the TCM calibration by gathering and comparing multiple points.
Calibrates both the machine and implement receiver TCM at the same time.
How it works:
Roughly 100.6 m (330 ft) of space is required for the calibration.
During the calibration, speed should not exceed 6.4 km/h (4 mph).
If an error occurs during the calibration, the operator is notified.
Advanced TCM Calibration page in the display
Select Advanced TCM Calibration from the device list in the display.
Follow the on-screen prompts to set up a guidance line.
Drive the guidance line using AutoTrac automated steering from point A to point B.
Manually turn and resume AutoTrac steering, driving the guidance line back to point A.
This completes the calibration.


Compatibility:
StarFire 7000 Receiver or StarFire 7000 Integrated Receiver
StarFire 6000 Receiver or StarFire 6000 Integrated Receiver with software update 20-2 or later
Gen 4 4600 CommandCenter™ Display with software update 20-3 or later
Gen 4 4640 Universal Display with software update 20-3 or later
Must have an AutoTrac activation
With Ethernet connectivity on the StarFire 7000 Integrated Receiver, you can save up to 60 minutes per year while performing over-the-air software updates to keep your technology in sync with the latest features.


Improved RTK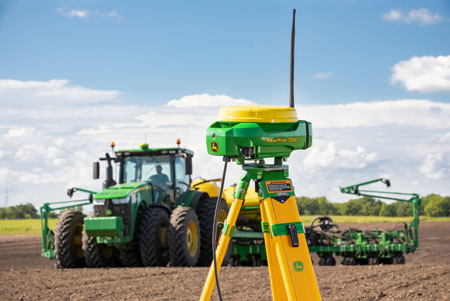 Better accuracy and more reliable RTK
Fast startup and shading recovery times, less line jumps, and more reliable performance under shading environments
Better RTK-X performance compared to StarFire 6000 or StarFire 3000 Receiver base
Vertical accuracy improvement
NOTE: Data collected when running a StarFire 7000 Receiver base with a StarFire 7000 rover.
NOTE: RTK Radio still requires the use of a compatible radio.



Drop-in replacement and serviceability

As John Deere continues to advance their technology (like the StarFire™ 6000 Integrated Receiver), the StarFire 7000 Integrated and StarFire 7000 Receivers are designed with modular components, making the unit a drop-in replacement for the previous generation of integrated receiver. You never have to worry about having outdated hardware.


Serviceability



The StarFire 7000 Universal Receiver has more than 20 parts that are completely serviceable. In the unlikely event that there is a problem with the system, many of the individual components can be replaced without replacing everything. This saves you time and money that can be used in other areas of your operation.
Go Back to List